As home inspectors with years of experience, we've seen it all, from friendly neighborhood tortoises to 270-year-old homes. We've gained many tokens of wisdom throughout this journey that we want to share. These are just a few small tips that may offer you some clarity the next time you find yourself part of the home inspection process.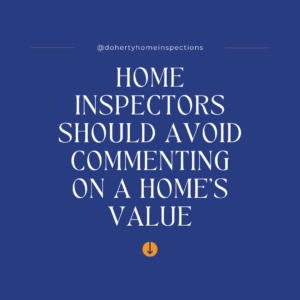 For starters, we want to speak on the many misconceptions regarding home inspections and their limitations. An inspector's job is almost entirely hands-off. It is dependent on assessments made through visuals and measurements. For this reason, they often find themselves in difficult situations. Frequently, clients and realtors ask home inspectors to speak or act on matters that are technically out of our area of expertise.
Misconception #1: Home inspectors can comment on the value of a home.
We particularly enjoy collaborating with our local Triangle realtors; however, we don't overstep our boundaries and speak on matters for the realtor to discuss with their clients. It could impede the moving process or get the realtor into trouble if we did. For example, home inspectors should never speak on the value of a home. Although some inspectors could give an educated guess based on how often the two worlds collide, that would be beyond their scope. We leave those big numbers to realtors who handle them best.
Misconception #2: Home inspectors can move furniture around if needed.
Another example is the overlap between home inspectors and sellers. Sellers should be the ones to stage the home. This arrangement is completed before an inspection to ensure the inspector has full access to every checkpoint. As home inspectors, we cannot move furniture around to access certain areas of the house. This act is risky due to liability: accidental damage to furniture or someone could get hurt.
Staying educated is one of the most critical aspects of our business because it allows us always to be safe and preventative. Each month, Doherty Home Inspections participates in continuing education courses to stay informed and up-to-date in the constantly evolving field of home inspections.